Home Theater
At BLueWave, we believe in bringing families together and that game day and family movie night should put you right in the middle of the action. We select each system componenet to bring you the latest technology available. Whether you are watching your favorite movie on Blu Ray DVD or the big game, we can provide you with the ultimate home theater experience.HOME CINEMA PROJECTOR, also commonly called Home Theater System, are home entertainment set-ups that seek to reproduce the movie theater equipment in a private home.
The design of your Home Theater is the single most critical element of the entire project. Design of any acoustic space, from professional studios to home theaters, is not based on a simple philosophy nor an equipment list. Acoustic design is the experienced application of science and physics to your home theater concept.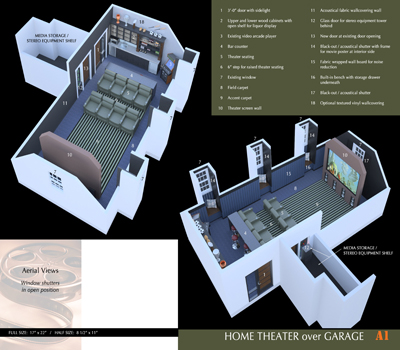 Every successful, and on budget, home theater project includes a comprehensive design and engineering plan. The Erskine Group works closely with the homeowner, the architect, A/V Integrator, and interior designer to develop all the construction plans, engineering plans, and documentation before the construction of the project begins.
Home Cinemas, music playback spaces, and recording rooms require fastidious attention to detail in both the construction and the design phases to assure the homeowner and project team that the proper acoustic footprint is built into the final result. Our experienced teams work through these complex issues on a daily basis and strive to always produce outstanding results.
---
Gallery: Carousel
---